Locations
Corporate Headquarters
50 Northfield Avenue
Edison, NJ 08837
Tel: 732.560.9410
Fax: 732.457.0042
Fremont Office
47520 Westinghouse Drive
Fremont, CA 94539
Tel: 510.440.1060
Fax: 510.440.1063
Power Generation Dept.
5 Hutton Centre #840
South Coast Metro, CA 92707
Tel: 714.540.3854
Fax: 714.540.5731
Drives & Inverters Dept. (Engineering)
105 14th St NW
Roanoke, VA 24017
Tel: 540.491.9625
Brand Identity
Our brand expresses our desire to provide customers and society with the value of Fuji Electric innovation. As experts in electronics manufacturing and pioneers of cutting-edge energy technology, we offer the products of the future to meet customer demands and contribute to the creation of responsible and sustainable societies everywhere we do business. Leveraging our brand, we endeavor to increase awareness and understanding of our beliefs throughout the world.
Symbol Mark


Our symbol mark represents Fuji Electric brand values as well as being a centralizing force for the company as a whole. The symbol mark is also used as a vehicle to accumulate value. "F" and "E" are the initials for Fuji Electric. The symbol mark also stands for our conviction to continue to build on our technological prowess, the trust we have gained and the positive corporate culture we have cultivated since our inception.
Brand Statement



Brand Promise: Through our pursuit of innovation in electric and thermal energy technology, we develop products that maximize energy efficiency and lead to a responsible and sustainable society.
Brand Evolution

1923 – 1978

1978 – 2002

2002 – Present
History
Fuji Electric has a diverse and rich history
Fuji Electric has created a number of new businesses during the nearly 90 years since our founding. A single theme has linked each of these—that of "Power Electronics Technology" combining power semiconductors, circuits, control systems, and similar technologies. Fuji Electric now aims to become a leading-edge company in "energy and the environment" by building upon our core platform of five technology fields which unlock the potential of electricity—energy, industrial systems, social systems, power electronics, and electronic devices.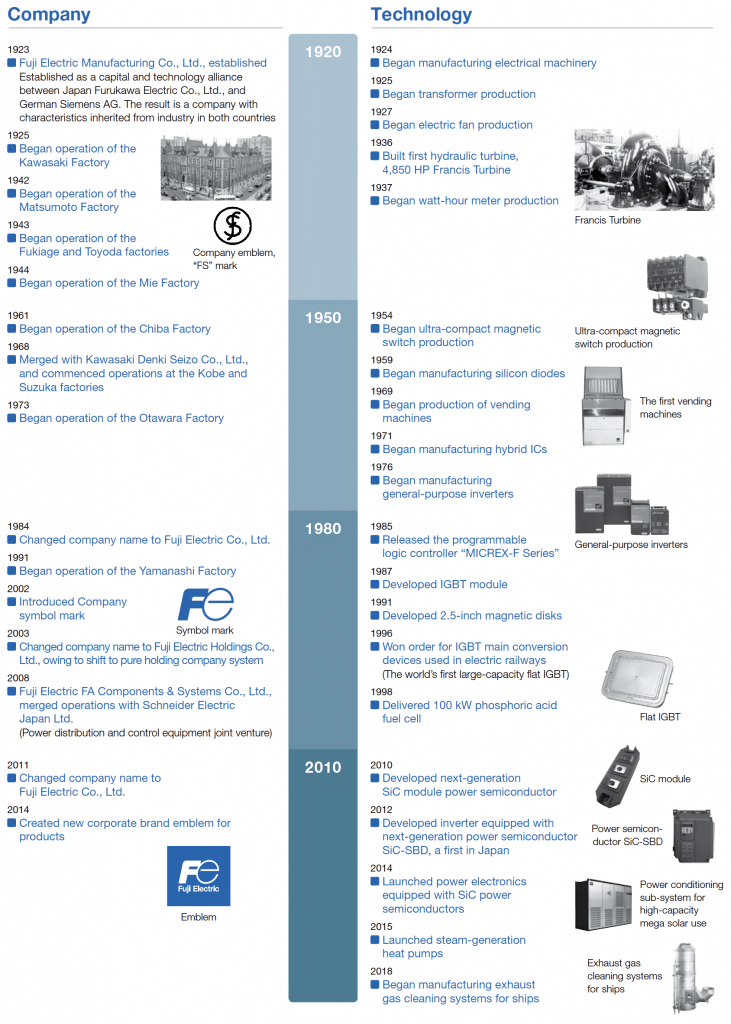 R&D
Fuji Electric continues to strengthen its R&D efforts  to contribute to the realization of a low-carbon society.
We are also engaged in globalization, and are strengthening our local R&D in China, the United States, Europe, and elsewhere. R&D and technical innovation are the driving forces of our company's growth. We are focusing our management resources on developing new businesses and products in the field of "energy and the environment."
Our core technology is in power electronics, which fuse our areas of expertise—power semiconductors, circuit technology, and control technology—and we are focusing on the research and development of future energy creation and energy conservation technologies.
Fuji Electric Corporate R&D Headquarters is the central driver in our efforts to develop core technologies and invent new products in the energy and environmental fields. We are creating leading-edge technologies for the future by developing products that take advantage of synergies among our core technologies, such as semiconductors, power electronics, control, and measuring instruments. Fuji Electric is rapidly developing new energy and the environment technology products destined for the global markets.
Environmental & CSR
Accomplishing our environmental mission as a good corporate citizen in global society
In September 2010, we revised the Charter of Corporate Behavior to incorporate a CSR perspective, and improved and renamed it, the Fuji Electric Code of Conduct. We strive to realize our Corporate Philosophy, with employees and the company having common values and working together to enhance corporate value based on the Code of Conduct.
Going forward, Fuji Electric plans to expand business globally. As such, we recognize the need to comply with the laws, rules, and business ethics of each country. We are also working to meet the expectations of our stakeholders by addressing societal issues including human rights and the global environment.
Fuji Electric's Code of Conduct
Fuji Electric and its employees, from a global perspective, always strives to meet the corporate mission of "We, Fuji Electric, pledge as a responsible corporate citizen in a global society to strengthen our trust with communities, customers and partners." As an integral part of this pledge, we are committed to each of the following:
Respect and value our customers
Respect and value all people
Respect and value the global environment
Respect and value our shareholders and investors
Respect and value interaction with society
Respect, value and conform to all applicable laws and regulations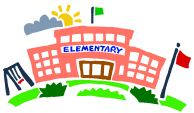 At Fuji Electric, we are your friends and neighbors working hard to strengthen the community we work and live in.  We periodically hold events that promote education and contribute to the wellbeing of our community. Recently, Fuji Electric hosted fifth graders from Ross Street Elementary at its Americas Headquarters.
Careers
Thank you for your interest in a career at Fuji Electric. Please view our list of open positions. Your next career path could be here at Fuji Electric.
Please submit your resume to x-fea-jfea@fujielectric.com.
Fuji Electric America is an Equal Opportunity Employer and does not discriminate against applicants or employees because of that person's race, color, religion, sex (including pregnancy), national origin, age, disability or genetic information.