Edison, N.J.  –  Fuji Electric Corp. of America has announced that they have entered the Bean-to-Cup coffee machine market in the United States with the launch of BeanBrew, a commercial-grade single-serve coffee machine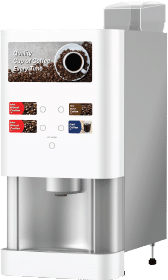 that uses freshly ground beans for every cup, allowing for 24/7 access to gourmet coffee in locations such as offices, hotels, restaurants, and convenience stores. BeanBrew's advanced grinding technology results in finely ground beans that are consistent in size for a smooth flavor.
"Although we're new to the U.S. market, Fuji Electric has been utilizing this technology in our machines since 2013, with over 40,000 machines deployed to convenience stores in Japan and 2.4 billion cups of coffee sold to date," said Jeff Knapp, General Manager of Fuji Electric Corp. of America's Food & Beverage Department.  "That means that every minute there are over 1 thousand cups of coffee being dispensed by a Fuji Electric bean-to-cup coffee machine, and we're excited for U.S. consumers to see what a difference the coffee machine itself plays in the overall experience."
Fuji Electric's grinding unit is powered by a high-performance motor, grinding the coffee beans to a fine and uniform consistency even at low RPMs. Conventional machines are powered by motors running at higher RPMs, and this can burn or oxidize the beans, ultimately affecting the flavor. The brewing process involves a comprehensive method of steaming and pressing the beans to extract maximum flavor and aroma. BeanBrew uses simple push buttons for easy operation, making it ideal for applications where 24/7 access to fresh coffee is required without the need for a dedicated machine operator present, such as offices, hotels, and off-peak hours at convenience stores. These UL/NSF-Certified machines feature multiple bean hoppers, a hot water dispenser, and a variety of options for easy calibration to maximize flavor.
"Fuji Electric has a proven track record of developing innovative products that outperform their competitors through the use of advanced technology," added Mr. Knapp. "Our engineers spend years developing new products that meet our strict quality standards, and the result of these efforts is a coffee machine that will produce better coffee with a smoother, deeper, more luxurious flavor."
About Fuji Electric Corp. of America
Fuji Electric Corp. of America is a wholly owned subsidiary of Fuji Electric Co., Ltd., and has been responsible for sales and distribution of the company's products since 1970.  Fuji Electric Co., Ltd. began developing power electronics equipment in 1923, and is a global leader in industrial products ranging from semiconductors, HMIs, contactors, relays, and power generation equipment to AC drives and uninterruptible power supply systems.  For more information please visit www.americas.fujielectric.com  or follow us on Twitter @FujiElectricFEA.
# # #
Media Contact:
Lisa Pross
Fuji Electric Marketing Manager
(201) 490-3933
lpross@fujielectric.com
Sales Contact:
Shogo Yoshida
Fuji Electric Engineer, Food & Beverage Dept.
732-609-8700
Yoshida-shogo@fujielectric.com