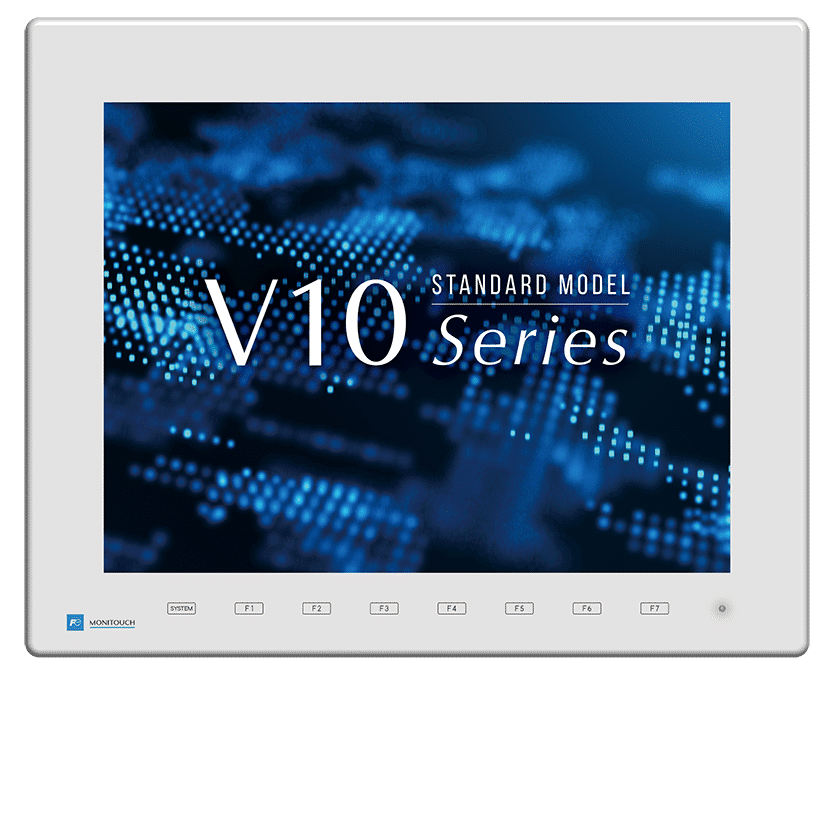 The MONITOUCH V10 Series the new standard for high speed HMI. Focusing on the six basic performance aspects of HMI: rendering, operation, communication, startup, transfer, and custom code, the V10 series was developed with the aim of stress-free operation. Industry-leading performance is achieved by adopting quad-core CPUs and optimizing applications. 
Startup: An almost 3 times faster startup, saving lots of waiting time
Rendering: an almost 3 times faster rendering, delivering seamless visuals and smooth interactions
Communication: almost 5 times faster communication capabilities, exchanging data and information more efficiently
Operation Input Response: An almost 1.5 times faster operation input response
Industry Best Performance
8.4″ to 15″ Display Area
Rendering: Highest screen switching speed
Operation: Quickest input response time
Startup: Shortest startup time from power-on
Transfer: highest screen data transfer time
Communication: Reduces the reading and writing time of multipoint data
Custom Code: Reduces stress during the operation of high-load screens with the highest processing speed for macro command execution
Minimal development cost in HMI replacement
Full compatibility in software
Screen assets created for the V9 Series can be easily converted for use in the V10 Series
Full compatibility in hardware
Panel cutout sizes are fully compatible, specifications of special models remain the same
Communication units are fully compatible, communication units (CUR-xx) for V9 Series can be used
Benefits for Every Department
Operation & Communication high speed processing of quad -core CPU
Allows for stable operation and communication performance even on high-load screens
Startup & Transfer advanced storage device (eMMC)
Reduced startup/transfer time and man-hours
Compatibility panel cutout size and functions
Fully compatible with existing V series
Product Finder
Search by part number or click the filter boxes to select the exact parameters you need.
Product
Display Size & Resolution
Case Color
Power Supply
Serial Ports
LAN Port
Additional LAN Port
Wireless LAN
SD Card Slot
USB
Audio Output
Video/RGB
Standard
Delivery
wdt_ID
Product
Display Size & Resolution
Case Color
Power Supply
Serial Ports
LAN Port
Additional LAN Port
Wireless LAN
SD Card Slot
USB
Audio Output
Video/RGB
Standard
Delivery
87
V1015iS
(V1015iSB)
15.0
1024x768
Light Gray
(Black)
AC
Y
Y
Y
Y
Y
Optional
KC
Standard
(Made to Order)
88
V1015iSD
(V1015iSBD)
15.0
1024x768
Light Gray
(Black)
DC
Y
Y
Y
Y
Y
Optional
UL
CE/UKCA
KC
ANSI/ISA*2
Classification Standard
Standard
(Made to Order)
89
V1015iSLD
(V1015iSLBD)
15.0
1024x768
Light Gray
(Black)
DC
Y
Y
Y
Y
Y
Y
Optional
UL
CE/UKCA
KC
ANSI/ISA*2
Classification Standard
Made to Order
(Made to Order)
90
V1015iSRD
(V1015iSRBD)
15.0
1024x768
Light Gray
(Black)
DC
Y
Y
Y
Y
Y
Y
Optional
UL
CE/UKCA
KC
ANSI/ISA*2
Radio Act
Made to Order
(Made to Order)
91
V1012iS
(V1012iSB)
12.1
800x600
Light Gray
(Black)
AC
Y
Y
Y
Y
Y
Optional
KC
Standard
(Made to Order)
92
V1012iSD
(V1012iSBD)
12.1
800x600
Light Gray
(Black)
DC
Y
Y
Y
Y
Y
Optional
UL
CE/UKCA
KC
ANSI/ISA*2
Classification Standard
Standard
(Made to Order)
93
V1012iSLD
(V1012iSLBD)
12.1
800x600
Light Gray
(Black)
DC
Y
Y
Y
Y
Y
Y
Optional
UL
CE/UKCA
KC
ANSI/ISA*2
Classification Standard
Made to Order
(Made to Order)
94
V1012iSRD
(V1012iSRBD)
12.1
800x600
Light Gray
(Black)
DC
Y
Y
Y
Y
Y
Y
Optional
UL
CE/UKCA
KC
ANSI/ISA*2
Radio Act
Made to Order
(Made to Order)
95
V1010iS
(V1010iSB)
10.4
800x600
Light Gray
(Black)
AC
Y
Y
Y
Y
Y
Optional
KC
Standard
(Made to Order)
96
V1010iSD
(V1010iSBD)
10.4
800x600
Light Gray
(Black)
DC
Y
Y
Y
Y
Y
Optional
UL
CE/UKCA
KC
ANSI/ISA*2
Classification Standard
Standard
(Made to Order)
97
V1010iSLD
(V1010iSLBD)
10.4
800x600
Light Gray
(Black)
DC
Y
Y
Y
Y
Y
Y
Optional
UL
CE/UKCA
KC
ANSI/ISA*2
Classification Standard
Made to Order
(Made to Order)
98
V1010iSRD
(V1010iSRBD)
10.4
800x600
Light Gray
(Black)
DC
Y
Y
Y
Y
Y
Y
Optional
UL
CE/UKCA
KC
ANSI/ISA*2
Radio Act
Made to Order
(Made to Order)
99
V1008iSD
(V1008iSBD)
8.4
800x600
Light Gray
(Black)
DC
Y
Y
Y
Y
Y
Optional
UL
CE/UKCA
KC
ANSI/ISA*2
Classification Standard
Standard
(Made to Order)
100
V1008iSLD
(V1008iSLBD)
8.4
800x600
Light Gray
(Black)
DC
Y
Y
Y
Y
Y
Y
Optional
UL
CE/UKCA
KC
ANSI/ISA*2
Classification Standard
Made to Order
(Made to Order)
101
V1008iSRD
(V1008iSRBD)
8.4
800x600
Light Gray
(Black)
DC
Y
Y
Y
Y
Y
Y
Optional
UL
CE/UKCA
KC
ANSI/ISA*2
Radio Act
Made to Order
(Made to Order)