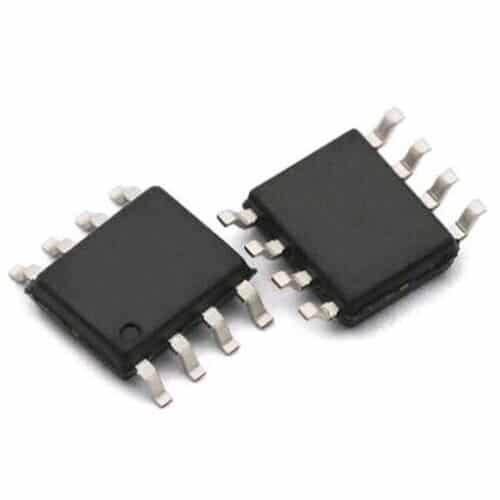 Fuji Electric offers a lineup of AC/DC and DC/DC power supply control ICs that support a variety of power circuits. These highly efficient, low-noise products with low standby power consumption are compatible with the various environmental regulations. Furthermore, many protection functions are built into the ICs themselves, which makes it possible to realize smaller power circuits.
AC/DC Power Supply Control ICs
Fuji Electric has developed a lineup of products for a wide variety of fields, for applications ranging from small and medium power capacity PC adapters and LCD TV power supplies, to large power capacity servers and industrial power supplies.

The Green Mode PWM-ICs have internal start-up circuits with a 500V/750V rating; low EMI noise by frequency diffusion; linearly reduced switching frequency at light load for low standby power with protection functions.
The Green Mode Quasi-Resonant ICs have internal start-up circuits with a 500V rating; intermittent or linearly reduced switching frequency; and protection functions.
The Power Factor Correction ICs have correspondence to a wide power range; 75W to 1kW, and achieve high power Factor ≥ 0.99.
The General PWM-ICs have voltage mode control; operating frequency can be set externally; and a 5 V reference voltage.
The Current Resonant ICs have 1 convertor circuit structure at world wide input power; a built-in high side driver; prevent capacitive region operation; Over current/Over voltage/Over load/Over heat/Brown out protection functions; and a green mode function
DC/DC Power Supply Control ICs
A large number of applications can be supported with our wide-ranging product lineup that includes types with MOSFET built-in and not built-in, boost/step-down/reverse/fly back control, and 1-3 channel output support.
DC/DC Power supply control ICs support a wide range of input voltages; have ON/OFF control function; have soft start, short circuit protection (timer latch), low voltage protection (UVLO); and the output voltage, operating frequency can be set externally.
High-side and Low-side Driver ICs
This is a High voltage IC that drives the power device gates of bridge configurations. This product ensures a high dv/dt withstand capability and negative voltage surge withstand capability.
Features

VS terminal high negative voltage withstand
Wide range power supply voltage up to 30 V [FA5650/5651]
Supports 3.3 V logical input
Built-in power supply voltage drop protection
High dVs/dt noise immunity up to 50 kV/us
High-speed response: I/O delay time 125 ns (Typ) [FA5650/5651]
Product Finder
Please enter desired parameters