Smart Vacuum Cleaner
Small & Discrete Semiconductors
Our products provide the required optimized control with a significant increase in efficiency as we offer high performance and effective products for Smart Vacuums and other autonomous devices. Scroll down to view which Power Semiconductor products are right for you.
Semiconductor Discrete IGBT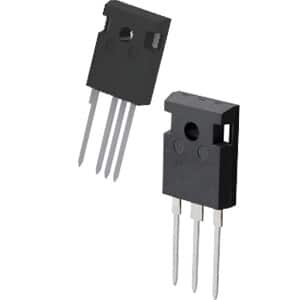 Fuji Electric's discrete IGBT's are used in applications such as Smart Vacuum Cleaner. The new "W" series uses thinner chip technology, thereby reducing power loss and extending switching range to 100kHZ. Fuji Electric's unique RB-IGBT technology is used for types having reverse blocking features that can be configured for bi-directional switching or 3-level inverter circuits. TO-247 3-pin and 4-pin kelvin packages are available.
Discrete IGBT Features:
IGBT in Trench-gate structure and Field stop technology
Low switching loss
High switching frequency (to 100kHz)
High efficiency by applying to Type-3 level inverter circuit
Reverse blocking character is realized for 1 chip by Fuji Electric's original technology
Semiconductor IGBT Small IPM
Fuji Electric's small Dual In-line Package IPMs with control IC, IGBT driver circuits and protection circuits are suitable for applications such as Smart Vacuums. The Fuji Small IPM line-up ranges from 15A to 70A at 600V and use Fuji Electric's new 7th generation IGBT technology. The protection circuits include: Overcurrent, Short-Circuit, Over-Temperature, and a Fault Alarm signal output. The Small IPMs also include an analog Temperature sensor output function.
Small IPM Modules P633A & P642 Features:
Realization of lower power loss by the 7thgeneration IGBT technology.
Fully isolated small Dual In-Line package
Suited for both consumer and industrial applications
Built-in drive ICs & Boot Strap Diodes
Protection functions: UVLO, SC, OH, V(temp) OUT
Continuous operating temperature Tvjop = 150 °C, with time limited Tvjop_tl = 175 °C