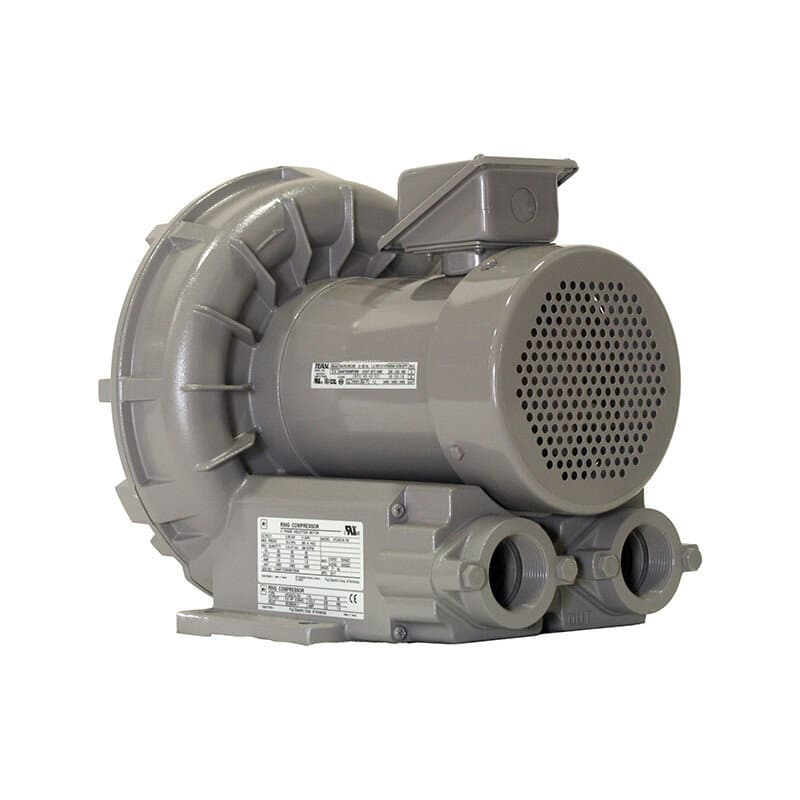 Ring Compressors/
Regenerative Blowers
Fuji Electric single-stage ring compressors can provide a maximum pressure of 139 in. H2O, a maximum vacuum of 110 in. H2O and a maximum capacity of 790 SCFM. Motors are direct drive from 1 HP to 30 HP. Voltages are available in 115 single phase, 230 single phase, 230/460 3-phase dependent upon motor size. All units are provided with threaded flanges.
Established in the US in 1970, Fuji Electric Ring Compressors and Blowers have an excellent reputation for Performance, Reliability and Quality in thousands of applications and in all environments. The latest models feature Premium efficiency motors and are designed for quiet operation.
Fuji Electric Ring Compressors provide robust design with Aluminum impellers, mounting base, and housings. Designs are UL and CE Recognized. Motors are designed for Multi-voltage operation. Accessories include Inlet filters for both pressure and vacuum applications.
Fuji Electric's Customer Service group provides the portal for customer satisfaction through order entry and shipping advice. Fuji Electric Blowers are conveniently stocked at warehouse locations in California and New Jersey. Typical product lead times are 1-2 business days.
| | Part Number | | | HP | Voltage | Phase | Frequency |
| --- | --- | --- | --- | --- | --- | --- | --- |
| wdt_ID | Part Number | Photo | Description | HP | Voltage | Phase | Frequency |
| 12 |    VFC080P-5T | | Regenerative Blower 1/10 HP, 115/230 single phase | 0.10 | 115/230 | 1 | 50/60 |
| 26 |    VFC080A-2T | | Regenerative Blower 1/10 HP, 230 3 phase | 0.10 | 200-230 | 3 | 50/60 |
| 27 |    VFC080A-4W | | Regenerative Blower 1/10 HP, 460 3 phase | 0.10 | 460 | 3 | 50/60 |
| 28 |    VFC100P-5T | | Regenerative Blower 1/6 HP, 115/230 single phase | 0.17 | 115/230 | 1 | 50/60 |
| 29 |    VFC100A-7W | | Regenerative Blower 1/6 HP, 230/460 3 phase | 0.17 | 230/460 | 3 | 50/60 |
| | Part Number | | | HP | Voltage | Phase | Frequency |
| --- | --- | --- | --- | --- | --- | --- | --- |
| wdt_ID | Part Number | Photo | Description | HP | Voltage | Phase | Frequency |
| 12 | VFD2S | | Regenerative Blower 1 HP, 115 single phase | 1.00 | 115V | 1 | 60 |
| 56 | VFD2-L | | Regenerative Blower .87 HP, 230 3 phase | 0.87 | 230V | 3 | 60 |
| 57 | VFD2-H | | Regenerative Blower .87 HP, 460 3 phase | 0.87 | 460V | 3 | 60 |
| 58 | VFD41S | | Regenerative Blower 2.2 HP, 230 1 phase | 2.20 | 230V | 1 | 60 |
| 59 | VFD41-L | | Regenerative Blower 2.2 HP, 230 3 phase | 2.20 | 230V | 3 | 60 |