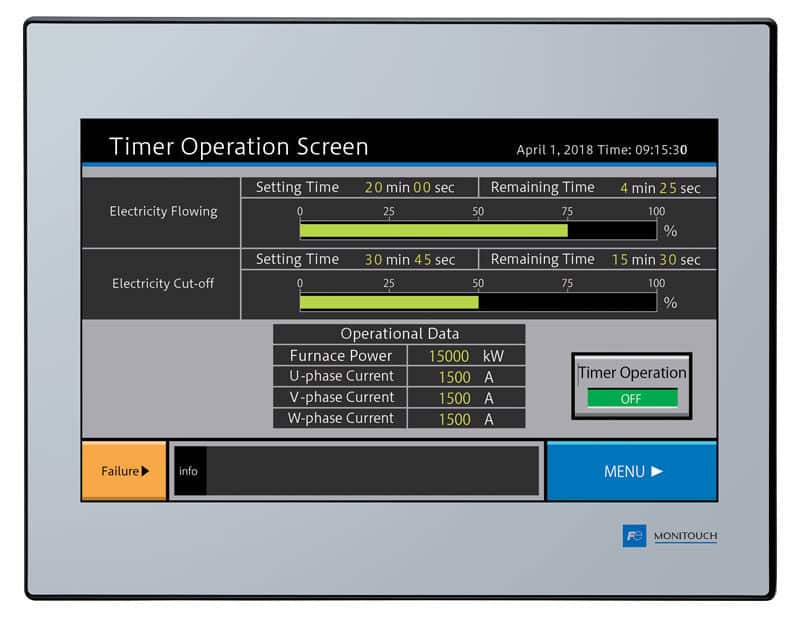 MONITOUCH Technoshot Series
The UL certified MONITOUCH Technoshot Series is available in a 7" and 10" screen size, and features an eco-friendly LED backlight with a sleek, slim structure. All models come standard with two USB interfaces, allowing better connectivity to peripheral devices. Customers will enjoy the convenience of Technoshot's simple installation, as well as its remote monitoring and maintenance capabilities due to the on-board Ethernet port.
10.2 inches
TFT WVGA
64K Colors
7 inches
TFT WVGA
64K Colors
5.7 inches
TFT QVGA
64K Colors
Product Finder
Search by part number or click the filter boxes to select the exact parameters you need.
Product
Display Size & Resolution
Case Color
Power Supply
External Interface
Serial Ports
LAN Port
USB
CUR-xx Compatible
Standard
Delivery
wdt_ID
Product
Display Size & Resolution
Case Color
Power Supply
External Interface
Serial Ports
LAN Port
USB
CUR-xx Compatible
Standard
Delivery
87
TS1070Si
7.0
800x480
Black
DC
Serial Ports
LAN Port
USB
Y
Y
Y
UL
CE/UKCA
KC
Standard
88
TS1100Si
10.2
800x480
Black
DC
Serial Ports
LAN Port
USB
CUR-xx Compatible
Y
Y
Y
Y
UL
CE/UKCA
KC
Standard
90
TS2060i
5.7
320x240
Black
DC
Serial Ports
LAN Port
USB
CUR-xx Compatible
Y
Y
Y
Y
UL
CE/UKCA
KC
Standard