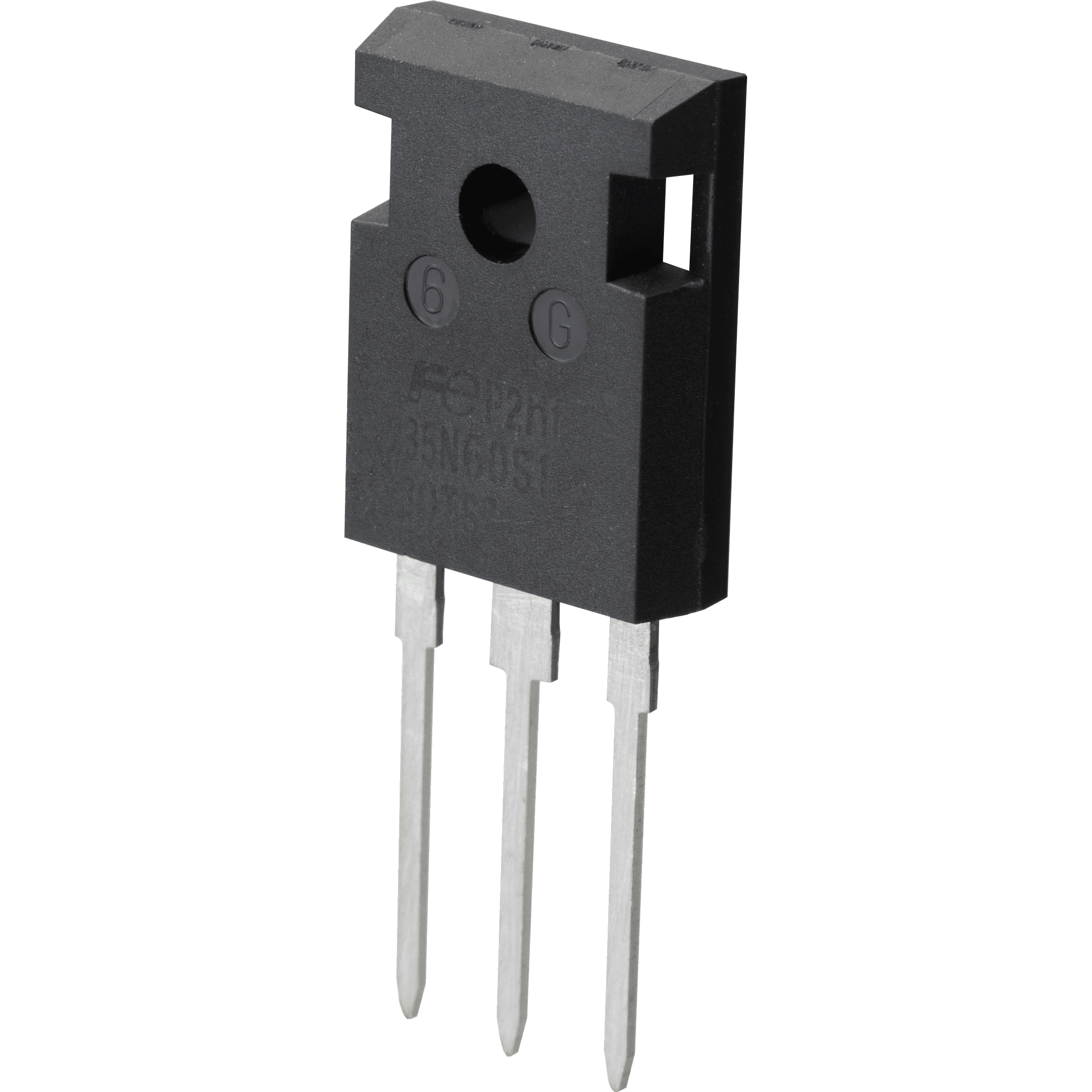 Fuji Electric's Discrete IGBT modules are used in applications such as UPS, power conditioning subsystems, communication equipment, servers, and EV chargers. By applying the technology we cultivated in our latest 7th generation IGBT module, the new "XS" series has been able to significantly improve the trade-off between on-voltage and switching loss compared with previous High-Speed W Series products. This enhancement contributes to energy saving and miniaturization of industrial equipment with a switching frequency of approximately 20 kHz, which is common among uninterruptible power supplies and solar inverters. The new "XS" series Discrete IGBT Ideal for 3-level inverters, bridge inverters, and PFC circuits. TO-247 3-pin and 4-pin kelvin packages are available.
High-Temperature Operation
Achieves continuous operation at 175°C through chip optimization and improved reliability and heat resistance of package.
The Discrete IGBT has been optimized by thinning the thickness and miniaturizing the structure of the IGBT chip and diode chip that makes up the Discrete package. This reduces power losses during inverter operation compared with previous products.
"XS" Series optimized for up to 20 kHz
"High Speed W Series" optimized for up to 100 kHz
Product Finder
Search by part number or click the filter boxes to select the exact parameters you need.
Discrete IGBT XS Series 650 V, 1200 V Class
| | Part Number | Package | Status | Configuration | Series | VCES | IC | RoHS | Mass |
| --- | --- | --- | --- | --- | --- | --- | --- | --- | --- |
| wdt_ID | Part Number | Package | Status | Configuration | Series | VCES | IC | RoHS | Mass |
| 1 | FGW40XS120 | TO-247(Type:B) | New | | XS series (7th-Gen) | 1,200 | 40 | Yes | 6 |
| 2 | FGW40XS120C | TO-247(Type:B) | New | With Diode | XS series (7th-Gen) | 1,200 | 40 | Yes | 6 |
| 3 | FGW75XS120 | TO-247(Type:B) | New | | XS series (7th-Gen) | 1,200 | 75 | Yes | 6 |
| 4 | FGW75XS120C | TO-247(Type:B) | New | With Diode | XS series (7th-Gen) | 1,200 | 75 | Yes | 6 |
| 5 | FGW30XS65 | TO-247(Type:B) | Existing | | XS series (7th-Gen) | 650 | 30 | Yes | 6 |
| 6 | FGW30XS65C | TO-247(Type:B) | Existing | With Diode | XS series (7th-Gen) | 650 | 30 | Yes | 6 |
| 7 | FGW40XS65 | TO-247(Type:B) | Existing | | XS series (7th-Gen) | 650 | 40 | Yes | 6 |
| 8 | FGW40XS65C | TO-247(Type:B) | Existing | With Diode | XS series (7th-Gen) | 650 | 40 | Yes | 6 |
| 9 | FGW50XS65 | TO-247(Type:B) | Existing | | XS series (7th-Gen) | 650 | 50 | Yes | 6 |
| 10 | FGW50XS65C | TO-247(Type:B) | Existing | With Diode | XS series (7th-Gen) | 650 | 50 | Yes | 6 |
Discrete IGBT High-Speed W Series 650 V, 1200 V Class
| | Part Number | Package | Status | Configuration | Series | VCES | IC | RoHS | Mass |
| --- | --- | --- | --- | --- | --- | --- | --- | --- | --- |
| wdt_ID | Part Number | Package | Status | Configuration | Series | VCES | IC | RoHS | Mass |
| 16 | FGW25N120W | TO-247(Type:B) | Existing | | W series (High speed) | 1,200 | 25 | Yes | 6 |
| 17 | FGW25N120WD | TO-247(Type:B) | Existing | With Diode | W series (High speed) | 1,200 | 25 | Yes | 6 |
| 18 | FGW25N120WE | TO-247(Type:B) | Existing | With Diode | W series (High speed) | 1,200 | 25 | Yes | 6 |
| 19 | FGW30N65W | TO-247(Type:B) | Existing | | W series (High speed) | 650 | 30 | Yes | 6 |
| 20 | FGW40N120W | TO-247(Type:B) | Existing | | W series (High speed) | 1,200 | 40 | Yes | 6 |
| 21 | FGW40N120WD | TO-247(Type:B) | Existing | With Diode | W series (High speed) | 1,200 | 40 | Yes | 6 |
| 22 | FGW40N120WE | TO-247(Type:B) | Existing | With Diode | W series (High speed) | 1,200 | 40 | Yes | 6 |
| 23 | FGW40N65W | TO-247(Type:B) | Existing | | W series (High speed) | 650 | 40 | Yes | 6 |
| 24 | FGW40N65WD | TO-247(Type:B) | Existing | With Diode | W series (High speed) | 650 | 40 | Yes | 6 |
| 25 | FGW40N65WE | TO-247(Type:B) | Existing | With Diode | W series (High speed) | 650 | 40 | Yes | 6 |
Discrete IGBT V Series/High-Speed V Series/RB-IGBT 600 V, 1200 V Class
| | Part Number | Package | Status | Configuration | Series | VCES | IC | RoHS | Mass |
| --- | --- | --- | --- | --- | --- | --- | --- | --- | --- |
| wdt_ID | Part Number | Package | Status | Configuration | Series | VCES | IC | RoHS | Mass |
| 38 | FGW15N120H | TO-247(Type:B) | Existing | | V series (6th-Gen) | 1,200 | 15 | Yes | 6 |
| 39 | FGW15N120HD | TO-247(Type:B) | Existing | With Diode | V series (6th-Gen) | 1,200 | 15 | Yes | 6 |
| 40 | FGW15N120VD | TO-247(Type:B) | Existing | With Diode | V series (6th-Gen) | 1,200 | 15 | Yes | 6 |
| 41 | FGW25N120VD | TO-247(Type:B) | Existing | With Diode | V series (6th-Gen) | 1,200 | 25 | Yes | 6 |
| 42 | FGW30N120H | TO-247(Type:B) | Existing | | V series (6th-Gen) | 1,200 | 30 | Yes | 6 |
| 43 | FGW30N120HD | TO-247(Type:B) | Existing | With Diode | V series (6th-Gen) | 1,200 | 30 | Yes | 6 |
| 44 | FGW30N60VD | TO-247(Type:B) | Existing | With Diode | V series (6th-Gen) | 600 | 30 | Yes | 6 |
| 45 | FGW35N60H | TO-247(Type:B) | Existing | | V series (6th-Gen) | 600 | 35 | Yes | 6 |
| 46 | FGW35N60HC | TO-247(Type:B) | Existing | With Diode | V series (6th-Gen) | 600 | 35 | Yes | 6 |
| 47 | FGW35N60HD | TO-247(Type:B) | Existing | With Diode | V series (6th-Gen) | 600 | 35 | Yes | 6 |