Fuji Electric has announced the addition of two new control integrated circuits (IC), a power supply control IC (Model #FA1A60N) and an LLC current resonance control IC (Model #FA6B20N), to their semiconductor portfolio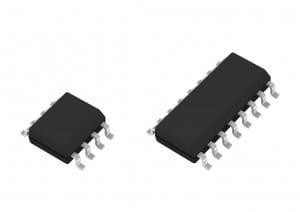 as part of their ongoing commitment to make equipment more energy efficient and to help reduce operational costs. The manufacturer has been expanding its business in both the Japanese and global markets, particularly with LCD televisions and industrial equipment, and this latest innovation will continue to strengthen the company's position as a global leader in semiconductor technology.
"By automatically detecting output and reducing switching frequency to limit power loss, these ICs contribute to improved energy efficiency," said Jeff Knapp, General Manager of Fuji Electric Corp. of America's Semiconductor Department.  "Furthermore, by eliminating the number of parts required, such as those that detect output power, the total cost of the power supply device will be reduced."
Both products are currently available and have begun shipping to customers around the world. Power supply control ICs are installed in AC adaptors and other power supply devices used for LCD televisions, office automation (OA) equipment, LED lighting, communications equipment, industrial equipment (machine tools, robots) and more. Their function is to convert commercially available (AC) home and factory power sources to the DC power used to run these devices and equipment. Since more efficient power conversion minimizes electricity loss, power supply control ICs play a key role in energy conservation.
"Year after year, Fuji Electric continues to develop innovative products that perform better in order to help our customers realize cost savings," added Mr. Knapp. "The addition of power supply control ICs was a natural extension of our product portfolio, and will help us to reach new market segments while strengthening our position in existing markets."
About Fuji Electric Corp. of America
Fuji Electric Corp. of America is a wholly owned subsidiary of Fuji Electric Co., Ltd., and has been responsible for sales and distribution of the company's products since 1970.  Fuji Electric Co., Ltd. began developing power electronics equipment in 1923, and is a global leader in industrial products ranging from semiconductors, HMIs, contactors, relays, and power generation equipment to AC drives and uninterruptible power supply systems.  For more information please visit americas.fujielectric.com  or follow us on Twitter @FujiElectricFEA.
# # #
Media Contact:
Doretta Caprarola
Fuji Electric Marketing Manager
(201) 490-3933
Sales Contact:
Jeff Knapp
Fuji Electric General Manager, Semiconductor Dept.
(201) 880-2145