Fuji Electric will introduce Turbo Blower Product line in Americas
Manufacturer's FDC Turbo Blower Series for low pressure, high flow Industrial Applications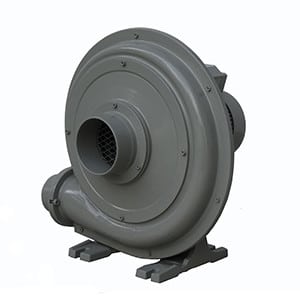 Edison, N.J.  –  Fuji Electric Corp. of America (FEA) will expand their existing product portfolio to include a new line of Turbo Blowers.  The FDC series of Turbo Blowers will offer a complimentary product for applications outside of the Ring Compressor performance limits.  The addition of the FDC Series, a complete lineup of energy efficient, UL-certified and RoHS compliant models are ideal for a wide variety of industrial applications.  These applications include Vehicle Fume exhaust removal in garages, Material conveying of dust and light particles, Cooling in UV light curing equipment, Combustion air for gas burners and more.
"The FDC Series will offer customers a high quality cast aluminum blower with the same level of high reliability, performance, and quality that they expect from Fuji Electric," said Bill Maier, National Sales Manager for FEA's Ring Compressor & Blower Department. "We will offer these units to cover a larger performance spectrum of flow and pressure for our customers."
The FDC Series, will be available on March 1st, 2018.  FDC blowers feature direct drive motors from 0.5 HP to 5 HP and are available in voltages of 115 single phase, 230 single phase, 230/460 3-phase (dependent upon motor size).  These new models utilize Premium Efficiency motors.  Blowers can provide a maximum pressure of 18.60 in. H2O,  and a maximum capacity of 1860 SCFM. This lineup joins Fuji Electric's portfolio of Regenerative Blowers, High Pressure Blowers, Turbo Style Blowers, Coolant Pumps, Air Knife Systems and Vacuum systems.
About Fuji Electric Corp. of America
Fuji Electric Corp. of America is a wholly owned subsidiary of Fuji Electric Co., Ltd., and has been responsible for sales and distribution of the company's products since 1970.  Fuji Electric Co., Ltd. began developing power electronics equipment in 1923, and is a global leader in industrial products ranging from semiconductors, HMIs, contactors, relays, and power generation equipment to AC drives and uninterruptible power supply systems.  View our complete product guide for Ring Compressors and Blowers, visit our website https://www.americas.fujielectric.com/  or follow us on Twitter @FujiElectricFEA.
# # #
Media Contact:
Marketing
Fuji Electric Corp. of America
(732) 560-9410
fea-marketing@fujielectric.com
Business Contact:
Bill Maier
National Sales Manager, Ring Compressor & Blower Dept.
Fuji Electric Corp. of America
973-727-1372
bmaier@fujielectric.com