G-Twin UL Plug-In Series Dimensional Drawings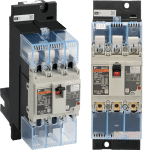 Fuji Electric's NEW G-Twin UL Plug-In Series provides high-performance Breakers for applications in Factory Automation, Manufacturing applications, and Building Automation. Our new product improves labor-saving and safety as it reduces wiring and improves efficiency. These are bus direct coupled type breakers that make it easy to extend equipment and change specifications for switchboard circuits.
Because Fuji Electric manufactures its D&C products, our customers benefit from the high quality and reliability of knowing where their industrial automation & control components are manufactured. We maintain strict quality guidelines, which means that our components will last longer in the equipment they are used in. This leads to a lower total cost of ownership for OEMs and less maintenance and repair.