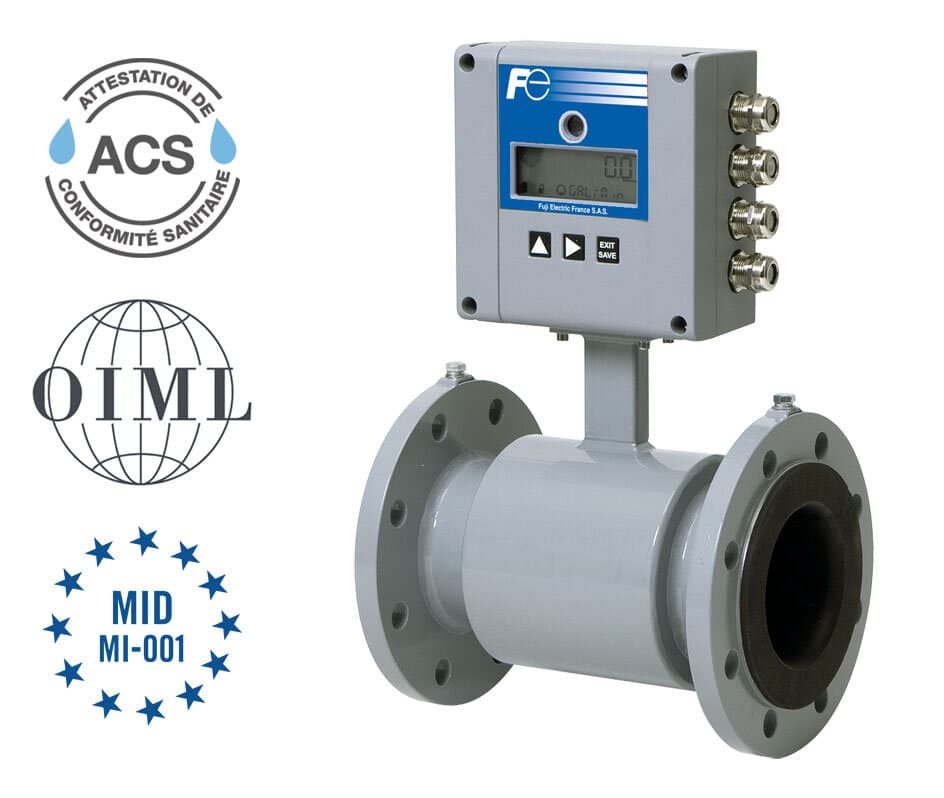 Electromagnetic Flowmeter MAGNETOFLOW™ M5000
The M5000 excellent repeatability as well as the aboveaverage battery life makes this innovative water meter indispensable for the water market.
Typical applications are leak detection in water networks, water consumption measurements and irrigation plants.
The meter is best suited for applications without a power supply where exact consumption or flow rates are required. The M5000 can also be used with an available power supply. The meter can be powered with mains voltage and in case of a mains failure, it is powered by an internal battery. Important data is therefore saved.
The M5000 has been designed for very harsh environmental measurement conditions. The meter has no moving parts and can be used to measure water containing particles like sand or gravel.
The M5000 is encased in an IP67 housing (optional IP68), which makes it a reliable meter even when submerged. The standard meter is equipped with an internal datalogger which can be read via an IrDA or M-Bus with ModBus® RTU protocol. The collected data can also be retrieved via radio frequency or GSM/GPRS. The data can thus be centrally compiled and evaluated.
Flanged process connections
Accuracy better than ±0,4 % of actual flow
Flow range : 0,03 to 10 m/s
DN 15 – DN 600
Protection class IP67 / IP68
ACS, OIML R49-1 and MID MI-001 approved
Interfaces IrDA, ModBus®, RTU, M-Bus
Up to 12 years battery life span
Integrated data logger fonction
Power supply
Internal Lithium batteries 3,6 V
Optional battery back-up model (AC)
Sizes
DN 15 to DN 600 (PTFE / hard rubber)
Battery life span
6 years, optional 12 years
Display
LCD, 2 lines
Programming
3 keys
Measuring range
0,03 – 12 m/s
Accuracy
>= 0,5 m/s better than ±0.4% accuracy of rate
<0,5 m/s +/-2,5 mm/s of rate
Repeatability
0,1%
Minimum fluid conductivity
>= 20 µs/cm
Flow direction
Bidirectional
Low-flow detection
Separate electrode
Digital outputs
4 x open collector, passive 30 VDC/20 mA, max. 100 Hz
Status outputs
Min./max. alarm, flow direction, failure report
Serial communication
RS232, ModBus® RTU, IRDA
External AMR or GSM/GPRS module (optional)
Datalogger
Integrated
Low-flow cut off
0-10%
Pulse width
Programmable up to 500 ms.
Housing
Powder coated cast aluminium
Protection class
P67 (IP68 optional)
Cable entry
Signal cable (outputs) M20
Signal cable
From detector M20
Remote version
Max. 30 m
Ambient temperature
-20°C to 60°C
Flange process connection for hazardous area Type V
Sizes : DN 15 to 600 (1/2'' …. 24'')
Nominale pressure : PN 10 to PN 100
Linear materials
| Type | Diameter | Fluid temperature |
| --- | --- | --- |
| Hard rubber | DN 25 to 600 | 0 to 80°C |
| PTFE | DN 6 to 600 | -40 to +150°C |
Electrodes material : Hastelloy C (Standard), Tantal, Platinum / Gold plated, Platinum / Rhodium,
Flange connections DIN, ANSI, JIS, AWWA, etc
Dimension according to ISO 13359,
Empty pipe electrode as Standard,
Ground electrode in the same material than the measurement electrode
Ground ring in option
IP67 or IP68 protection in option.
WIRELESS DATA RECORDING (RADIO / GSM / WIFI)
Fuji Electric offers the possibility to record wireless the measuring data you are getting from our flow meters. Those data are transmitted to and filed on a central server via a GPRS module (programming kit USB/HF key, wireless and including software Avelour 6). The information can be retrieved, visualised, evaluated and downloaded via a password protected access; the password is set by the customer.
Low investment costs,
Cost saving as against classical data recording,
Wireless measuring sites,
Access via internet independently from location,
Optimization of global applications,
Ideal for measuring sites in difficult areas,
High flexibility thanks to the extremely small space requirement and quick installation of the GPRS module,
Makes service, maintenance and putting into operation easier.
Consumption monitoring and leckage reduction in water supply systems,
Precise flow metering in large channels and rivers for the monitoring of navigability and issue of flooding forecasts,
Monitoring and alarm of overflow basins for rainwater, sewage plants, storm water overflow plants,
Control of irrigation plants,
Level monitoring, alarm for automatical filling and connection to the supplying system.