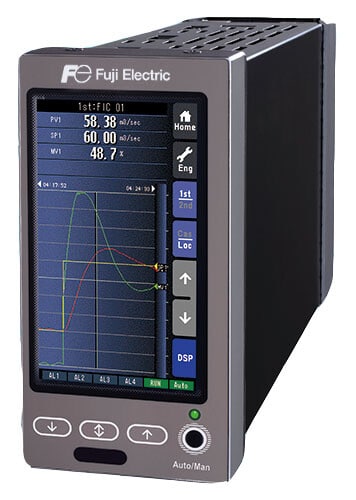 Multi-Function PID Controller
Multi-fonction and programmable PID controller
Highly visible color graphic LCD
IP 55 front panel
Intuitive touch panel operation
INPUT
2 universal input

DC current (including 2 wire transmitter)
Thermocouple
Potentiometer
RTD (PT100, JPt 100…)

4 DC input (1-5V)
5 discrete/pulse input
1 high speed pulse input (with sensor excitation)
OUTPUT
2 DC current (4-20 mA)
2 DC voltage (1-5V)
5 relay or photo MOS contact
1 RUN relay contact
Powerful engineering tools to help you explore the full capability of the controllers
INTUITIVE TOUCH PANEL OPERATION
CHEMICAL INJECTION CONTROL
The PSC controls two flow loops for water and injected chemical. the chemical flow is controlled in a constant ratio against the water flow.

Other signals from pH and conductivity analyzers can be monitored at once.
REACTOR TEMPERATURE CONTROL
The reactor temperature control loop is connected in cascade to the hot water control loop in the hot water tank.