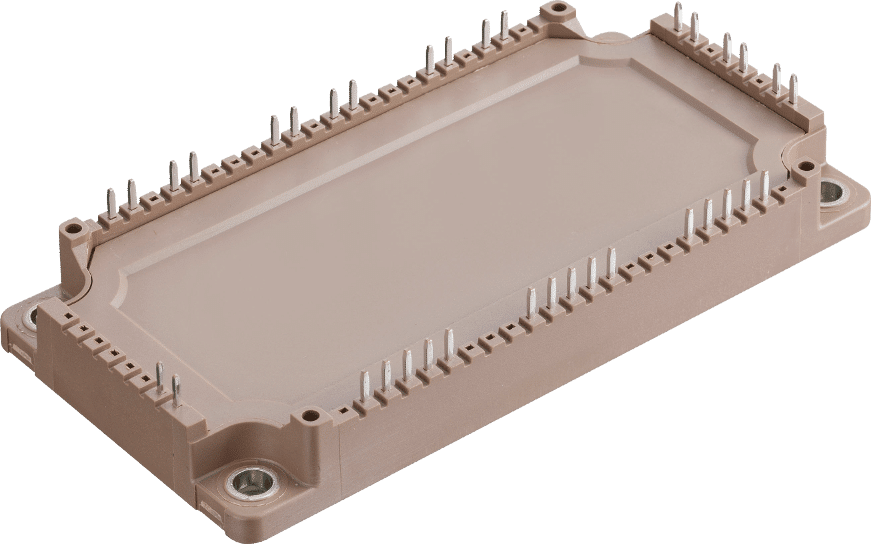 Compared to the 2-level type, the output waveform is closer to a sine wave, so the LC filter can be made smaller. It also has half the switching losses, so it is advantageous for realizing a highly efficient design. It is suitable for photovoltaic power generation systems or uninterruptible power systems.
Fuji Electric provides IGBT modules compatible with both T-type and I-type 3-level circuits. Particularly, Fuji Electric's uniquely developed RB-IGBT (Reverse Blocking) chip is used for an AC switch on T-type modules to realize a low loss.
Product Finder
Search by part number or click the filter boxes to select the exact parameters you need.
IGBT Module 3 Level V series
| | Part Number | Package | Status | Series | VCES | IC | Width | Length | RoHS | Net Mass |
| --- | --- | --- | --- | --- | --- | --- | --- | --- | --- | --- |
| wdt_ID | Part Number | Package | Status | Series | VCES | IC | Width | Length | RoHS | Net Mass |
| 1 | 12MBI100VN-120-50 | M1203 | Existing | 6th-Gen V Series | 1,200 | 100 | 62 | 122 | Yes | 302 |
| 2 | 12MBI100VX-120-50 | M1202 | Existing | 6th-Gen V Series | 1,200 | 100 | 62 | 122 | Yes | 302 |
| 3 | 12MBI50VN-120-50 | M1203 | Existing | 6th-Gen V Series | 1,200 | 50 | 62 | 122 | Yes | 302 |
| 4 | 12MBI50VX-120-50 | M1202 | Existing | 6th-Gen V Series | 1,200 | 50 | 62 | 122 | Yes | 302 |
| 5 | 12MBI75VN-120-50 | M1203 | Existing | 6th-Gen V Series | 1,200 | 75 | 62 | 122 | Yes | 302 |