Fuji Electric Co., Ltd. (headquartered in Tokyo, Japan; led by President Michihiro Kitazawa) is pleased to announce its intent to review Environmental Vision 2050, which it first implemented in 2019. The policy was based on legislation such as the Plan for Global Warming Countermeasures decided by the Japanese cabinet, which itself is based on the Paris Agreement. In the aim of contributing to the achievement of a decarbonized society, Fuji Electric will review Environmental Vision 2050 while also starting to consider specific initiatives to achieve this end.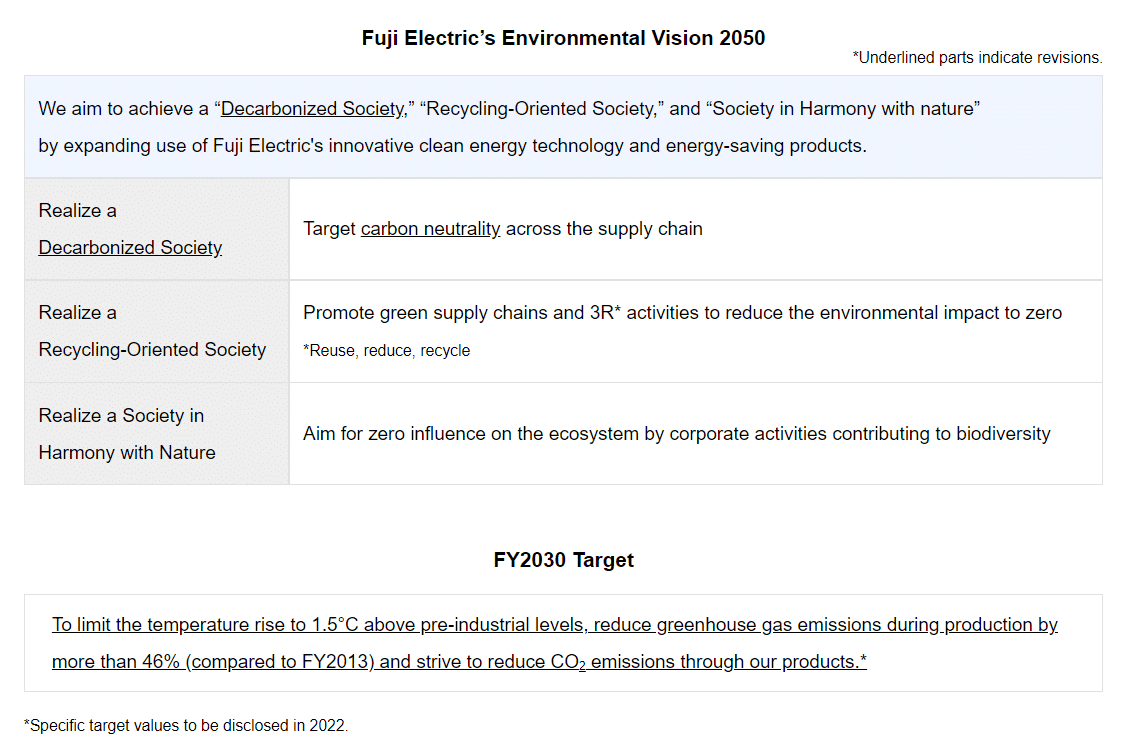 Fuji Electric positions environmental conservation initiatives as one of its key management issues, and is working to contribute to reducing society's CO2 emissions by supplying clean energy and energy-saving products to the market, and to reduce greenhouse gas emissions during production by investing in energy-saving equipment for its own production facilities.
In 2020, Fuji Electric expressed its support for the TCFD, an international framework for analyzing and disclosing the financial impacts of climate change. Fuji Electric discloses governance and long-term risks and opportunities on its company website, and will continue to review risk management and indicators and targets and disclose them in the future.
For the second year running, Fuji Electric has been selected for the CDP* A List (the highest rating), as a company engaged in excellent activities and information disclosure for climate change.
*CDP is an international non-profit organization whose main activity is to promote environmental measures by requiring companies and local governments to disclose information on their environmental measures for climate change, water security and forest conservation etc., based on requests from institutional investors and major purchasing organizations around the world with high levels of interest in environmental issues.