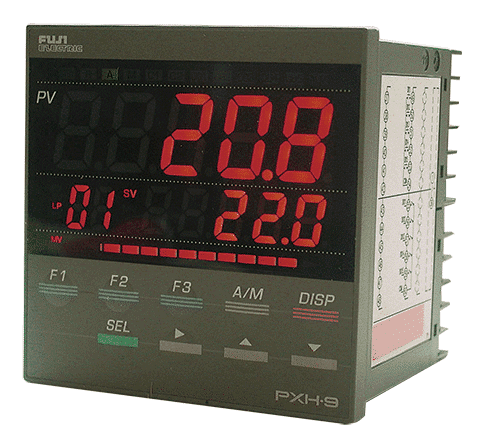 Digital universal controller : easy configuration with pre-installed application templates
Pre-installed programming templates allow easy configuration for various applications. Just by selecting appropriate "application template", input/ouput setting and internal calculation blocks can be utomatically configured.
Parameter upload and download is easily made by using the parameter loader software. This software is available in standard.
FUNCTIONS AVAILABLE IN STANDARD
Receipe function
Input linearize function
Totalize function
Math functions
Application templates pre-installed
PID
PID + SV select
PID + Mathematical module
PID + SV select + Mathematical module
PID + input select + Mathematical module
Heat/cool control
Heat/cool control + SV select
Totalization
Position feedback control
Servo control
Indication accuracy: 0.1%
High speed control: 50 ms input sampling
Motorized valve control (position feed back/servo control)
Dual PID controller (Heat/cool control)
Accepts various input: thermocouple, RTD, voltage, or current
Powerful – Math functions
Integrated totalize function
RS-485 Modbus communication function and transmitter power supply
FLOW RATE COMPENSATION

BTU CALCULATOR