Measurement of the concentration of 1 to 5 components
The Fuji Electric extractive multigas analyser range consists of non-dispersive 5-gas infrared analyzers. They allow simultaneous and continuous measurement by extraction of 1 to 5 gases from:
CO, CO2, NOx, SO2, CH4 and N2O by single or double beam NDIR technology
O2 by paramagnetic, Zirconia or electrochemical technology
Simple maintenance thanks to self-diagnostic functions
Good precision and excellent stability of the measurement over time
Large backlit display
Automatic zero and span calibration
Correction with oxygen
Modbus® protocol digital link
Large scale dynamics (1 to 20 configurable)
The mass flow meter determines the amount of infrared light absorbed by the measuring cell.
Mass flow meter:
It converts the absorption of infrared light into an electrical signal.
Excellent resistance to interference thanks to the low impedance sensor.
The absence of moving parts makes the analyzer particularly resistant to vibrations.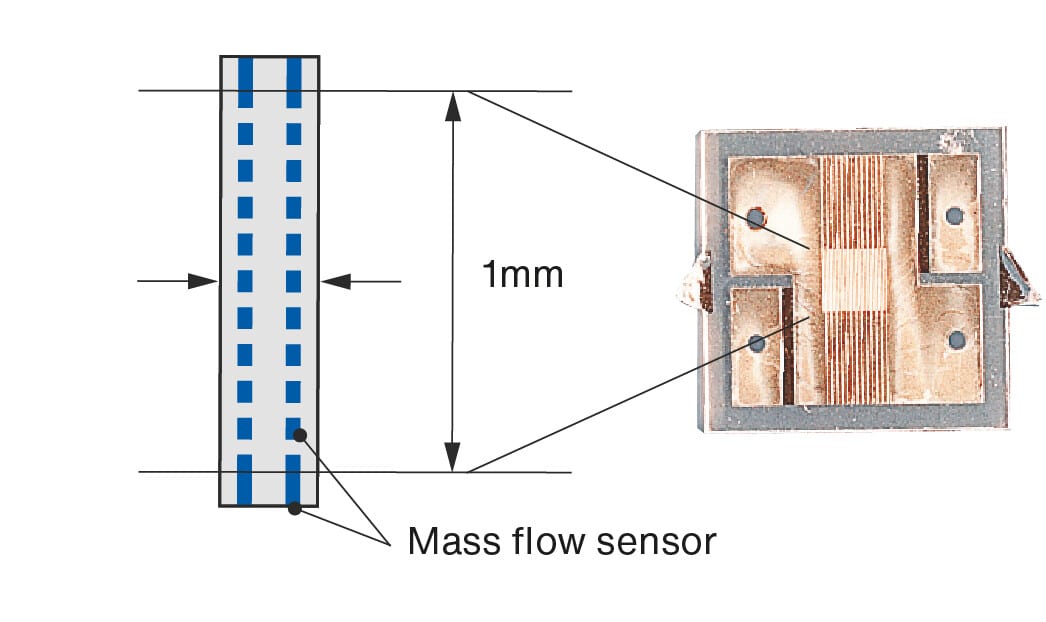 ZKJ – 5 components analyser – NDIR dual beam

CO2  –  CO  –  CH4  –  NOX  –  SO2  –  O2  –  NO  –  N2O
Ideal for controlling polluting emissions
Uses a highly sensitive mass flow meter as a detector.
Simultaneous and continuous measurement of 5 gases :
The reference cell of the double beam principle offers excellent performance
Low scales from 0-20 ppm
Excellent zero point stability: ± 1% FS per week
Integrated interference detectors help reduce cross interference optimally
Clean and intuitive interface with advanced diagnostic and calibration features
NOx, SO2, CO, CO2, CH4, NO: Non-dispersive infrared absorption method.
O2: Paramagnetic or electrochemical method (measuring element incorporated in the analyzer) or zirconia method (external analyzer type ZFK7)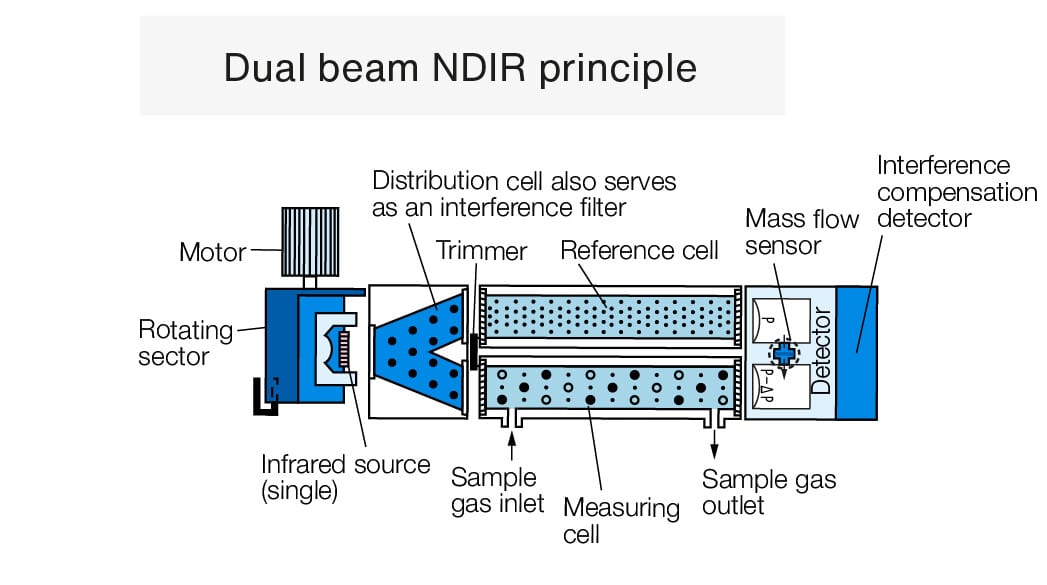 ZRE – 5 gas NDIR analyser – Single beam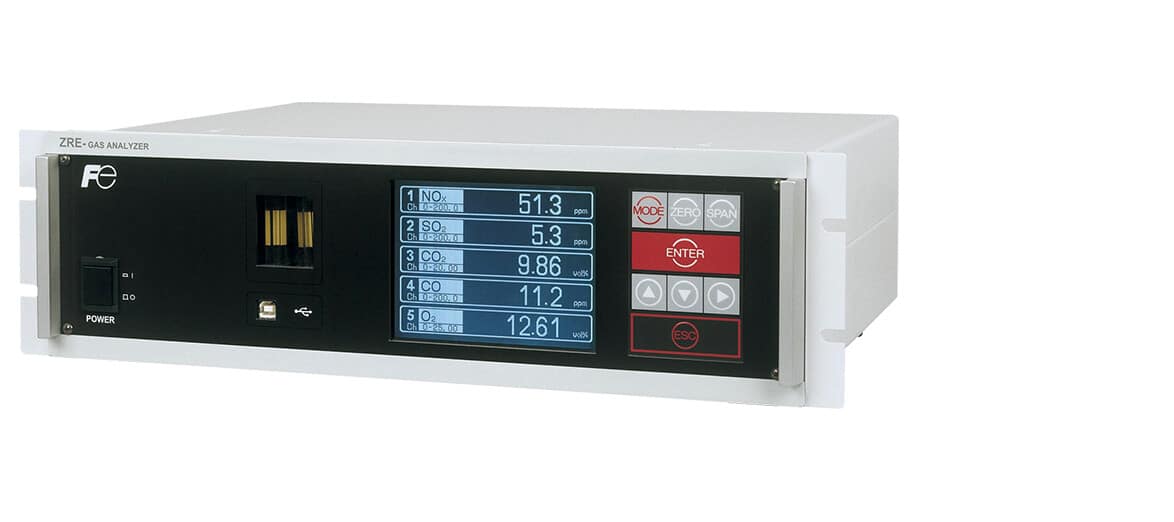 CO2  –  CO  –  CH4  –  NOX  –  SO2  –  O2  –  NO  –  N2O
Compact and easy to use
Excellent stability over time
No influence of humidity on the measurement
Automatic calibration, communication and alarms
Simultaneous and continuous measurement of the concentration of 5 gases:
Simultaneous and continuous measurement of one to five components
Possibility for the user to select two scopes for each component and to modify them freely
Simple internal structure for easy maintenance
Compact and lightweight: 483 (W) × 133 (H) × 418 (D) mm, 8 kg
Complete range of O2 measurement technologies: electrochemical, paramagnetic or zirconia
The amount of infrared radiation absorbed in the measuring cell is detected with a micro mass flowmeter. The low impedance micro mass flowmeter has excellent interference immunity, and the sensor, without moving part, is insensitive to vibrations.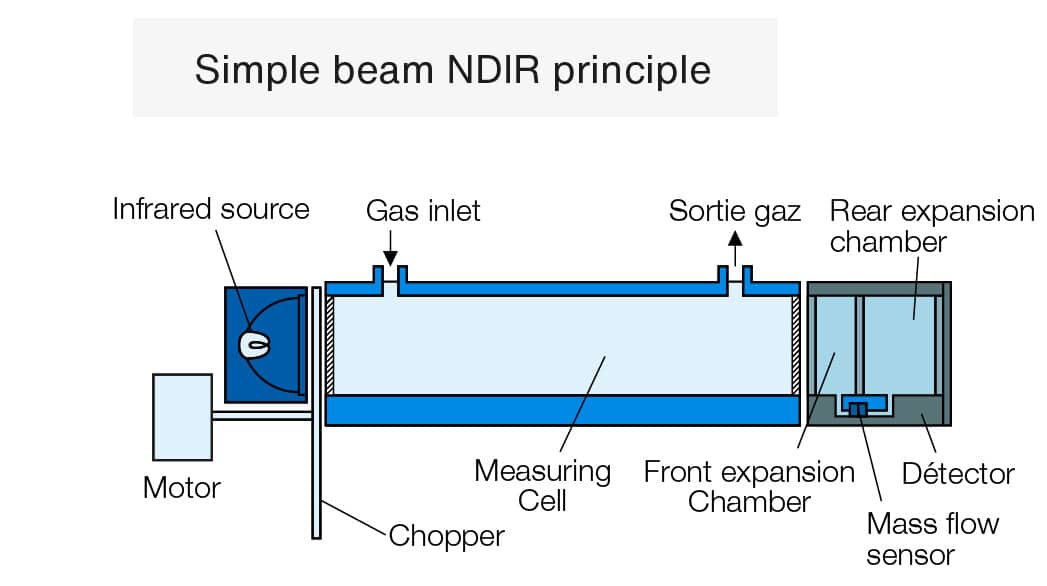 Measuring components and ranges
| | | |
| --- | --- | --- |
| Type | ZRE | ZKJ |
| Model | | |
| Range | Minimum range | Maximum range |
| NO | 0-200ppm | 0-5000ppm |
| SO2 | 0-200ppm | 0-10 vol% |
| CO2 | 0-100ppm | 0-100 vol% |
| CO | 0-200ppm | 0-100 vol% |
| CH4 | 0-500ppm | 0-100 vol% |
| N2O | _ | _ |
| O2 (electrochemical) | 0-10 vol% | 0-25 vol% |
| O2 (paramagnetic) | 0-10 vol% | 0-25 vol% |
| O2 (external analyser) | 0-5 vol% | 0-25 vol% |
Infrared Gas Analyzer (ZKJ Series)
NDIR Gas Analyzer (ZPA/ZPB/ZPG Series)