Bean-to-Cup Single-Serve Coffee Machine
Hotels
Standalone, can function unattended in a lobby or other foodservice venue 24/7.  Guests will be delighted with a 
freshly
 ground and brewed cup of coffee at the touch of a button.
Cafe/Restaurants
With more than 20 adjustable parameters, the machine can set perfect grind for your custom roasted coffee beans and make sure every brew is consistent.
Offices
Customize the unit with your logo and graphics, maximizing your brand, and offering office employees freshly brewed coffee they will appreciate and a bean brand they will remember.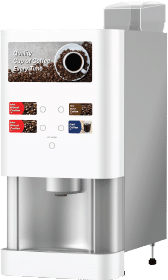 The Fuji Electric coffee machine eliminates the tremendous waste associated with large batches of coffee and traditional single serve options, with minimal little labor, which ultimately saves operation cost. It is a sustainable eco-friendly option using a mesh brewing system and proven grinder technology maximize the optimal taste and aroma of beans