Literature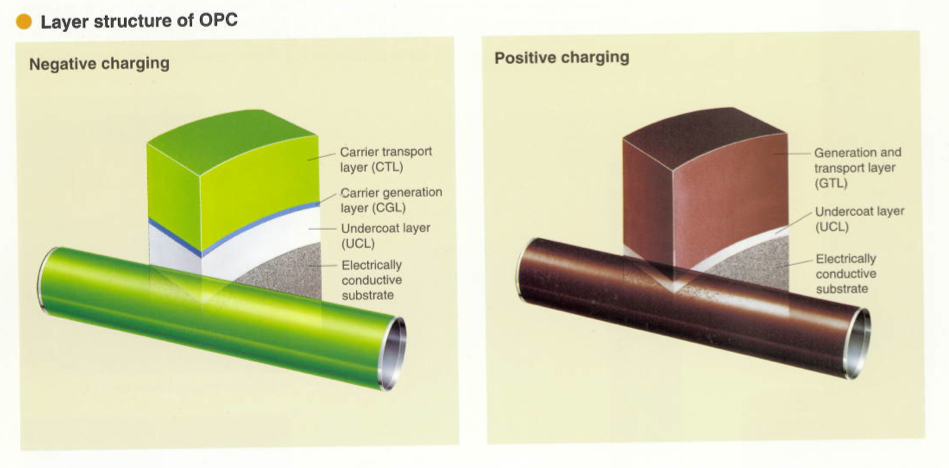 Fuji Electric's ultra-fine lamination technology ensures on high performance and high quality.
Made of an organic photoconductor (OPC) drum has a layered structure that is ideal for each electrophotographic imaging. These ultra-fine layers require extremely precise coating techniques to eliminate or even the submicron order. For stable forming of even and smooth layers, Fuji Electric Imaging Device is developing and utilizing unique and lamination technologies. This is one reason the FUJI's products are highly valued and widely accepted.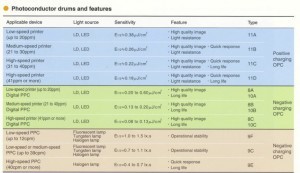 Fuji Electric has a drum for every application.
Fuji Electric Imaging Device's versatility enables it to safety a wide range of individual customer requirements. To obtain clear images in a copier or printer the special sensitivity of the photoconductor drum must meet the wavelength of any light source, LED semiconductor laser, gas laser, and fluorescent, tungsten and halogen lamps.
Get the competitive edge by taking advantage of Fuji Electric's continuing R and D of materials and manufacturing technology.
Even with the prevalence of computer networks, the demand for printed media continues to grow.  Fuji Electric is continuously developing new materials for photoconductor drums to produce print images of the highest quality.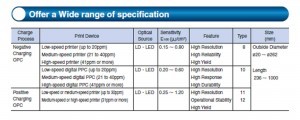 To protect the environment and health, Fuji Electric performs safety tests on all photoconductive materials Fuji Electric use. The peripheral components of a photoconductor drum and its related components also affect the performance and life of the drum. Fuji Electric has a considerable experience in the use of powerful techniques for examining the electrophotographic process and expertise in analyzing materials of developer, paper and cleaning sections of imaging devices. To achieve the optimum performance from a photoconductor drum, Fuji Electric is also continuing to enhance its precision manufacturing technology. Fuji Electric challenges itself to be innovative in the improvement of the development and manufacturing of photoconductor drums.
Brochures & Catalogs:
Quick Links
Support Info
Customer Service:
(732) 560-9410
9:00 AM – 5:00 PM (EST)
Monday – Friday