Literature
*To Download the Latest Version of V-SFT Configuration Software Click HERE
NOTE: You must first register as a Member prior to downloading the V-SFT software. Registration is free and simple.
Configuration of Easy-to-view Screens
The number of picture icons has been increased, and the icons with plain design have been added. Pick from the wide range of ready-made icons for sophisticated representation.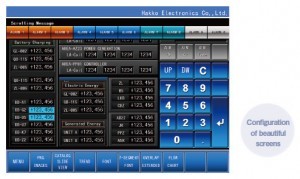 Simple icons added
Popular simple icons that are used widely on smartphones have been introduced.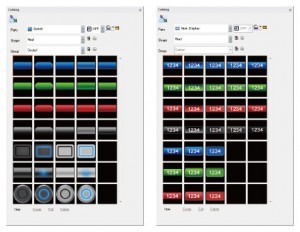 Increased picture icons
The number of the picture icons has been increased.

Requirements
PC
PC⁄AT compatible machine with Windows
OS
Windows XP/XP64 Edition/ Windows Vista (32bit,64bit)/
Windows 7 (32bit,64bit)/ Windows 8 (32bit,64bit)/
Windows 8.1 (32bit,64bit)/ Windows 10 (32bit,64bit)
CPU
Pentium4 2.0GHz or higher is recommended.
Memory
1GB or more
Hard disk
For installation:2.0GB or more availlable space
Disk drive
DVD-ROM drive
Display
Resolution 1024×768(XGA) or higher
Color indication
High Color (16bit) or higher
Others
Microsoft .NET Framework 4.0 or 4.5
(If a PC does not have .NET Framework 4.0 or 4.5, Framework 4.0 will automatically be installed on the PC.)
Upgraded Operability
Ribbon Menu
The ribbon-shaped menu bar is available. Enlarged icons are easily visible also improves the operability remarkably.

Ladder Diagram for Interlock
Interlocking operations can be set on the ladder diagram, which makes it easy to grasp the settings and set multiple conditions.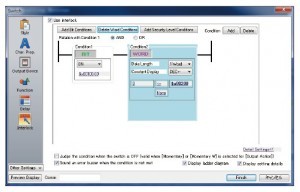 Graphic Indication of System Configuration
The improved hardware setting screen makes it easy to grasp exactly how devices are connected together in the system.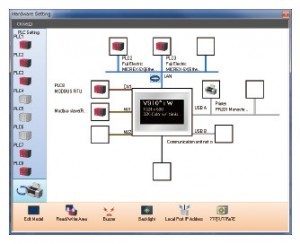 Docking Windows
T
he project view windows and item view windows can be docked or floated easily.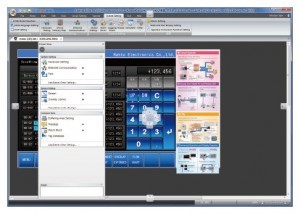 Integration of Search menu
The search menu, which used to be displayed separately, have now been integrated for easy operation.
Support Info
Literature Request Form
Customer Service:
(510) 403-7863
9:00 AM – 5:00 PM (PST)
Monday – Friday
Technical Support:
(201) 490-3921
HMI Support Email
9:00 AM – 5:00 PM (EST)
Monday – Friday
General Inquiry:
(201) 490-3927
9:00 AM – 5:00 PM (EST)
Monday – Friday